日本語 / English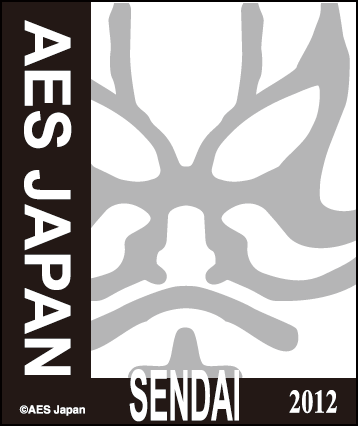 AES Japan Section will hold a regional conference at Sendai Mediatheque in Sendai, Japan. The main theme of the conference is "The Future of Multichannel Audio." The conference dates are October 10th to 11th, 2012.
Dates
Day 0: October 9th, 2012
Day 1: October 10th, 2012
Day 2: October 11th, 2012
Supporting Companies
Amenity Research Institute Co., Ltd.
ARNIS SOUND TECHNOLOGIES CO. LTD.
Dolby Japan K.K.
ETANI ELECTRONICS CO., LTD.
Evixar Japan, Inc.
Forbit Corporation
HANAOKA MUSEN DENKI CO., LTD.
MI7 Japan Inc.
Nittobo Acoustic Engineering Co., Ltd.
OTARITEC Corporation
Panasonic AVC Networks Company, Panasonic Corporation
PIONEER CORPORATION
ROCK ON PRO / Media Integration, Inc.
Solid State Logic Japan K.K.
SONA CORPORATION
Synthax Japan Inc.
TACSYSTEM Inc.
TC Group Japan, Inc.
TOYO Corporation
(in alphabetical order)
Venue
Sendai Mediatheque (http://www.smt.city.sendai.jp/en/)
Access information and a map can be found on the linked page.
Program
Oct 9th (Tue)
Afternoon
Technical Tour
(Research Institute of Electrical Communication)
Oct 10th (Wed)
09:30–10:30
Student Program 1: Introduction of Laboratories by the Students
10:30–10:40
Opening Session
10:50–11:50
Keynote Address
多チャンネルオーディオによる放射指向性音響の実現に向けて
勝本道哲 (株式会社勝本総合研究所 代表取締役社長)
11:50–12:30
Technical Presentation: Short Time Presentation
12:30–13:50
Technical Presentation: Presentation Core Time & Lunch
13:50–15:20
Workshop 1: Train your ear! Trend and the Future of Ear Training
15:30–17:00
Workshop 2: What Does Ultra-Channel Acoustic System Bring?
18:00–20:30
Banquet (at the restaurant of Heanel Sendai)
Oct 11th (Thu)
09:30–12:00
Workshop 3: Does Loudness Operation Change the Broadcasting? Does It Affect Other Medias?
12:00–13:30
Technical Presentation: Presentation Core Time & Lunch
13:30–15:00
Student Program 2: Sound Award Competition for Students
15:10–16:40
Workshop 4: Field Surround Recording and Production
16:40–17:00
Closing Session
Fee
Registration
(Oct 10–11,
incl. Tech. Tour)
Non-student
AES Member
5,000 JPY
Non-member
7,000 JPY
Student
AES Member
Free
Non-member
3,000 JPY
Banquet
(Day 1)
Non-student
6,000 JPY
Student
3,000 JPY
Banquet
Date/Time: October 10th 18:00–20:00
Place: Heanel Sendai (five minutes on foot from the conference venue)
Fee: 6,000 JPY (non-student) / 3,000 JPY (student)
Contact
Workshop: conf2012-workshop [at] aes-japan.org
Technical Presentations: conf2012-papers [at] aes-japan.org
Cosponsorships: conf2012-sponsor [at] aes-japan.org